At one rally I saw a Berkeley T60 and commented to someone that I would like to have one as a project.
Within minutes I was passing on my details to someone who knew someone who had one to dispose of. Usually that's the last you hear of the tale.
In this case a chap called me some time after and said he had a basket ca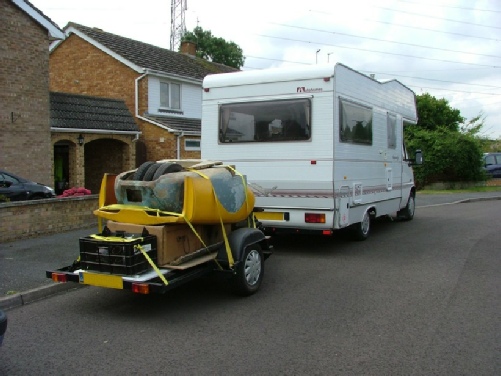 se T60 if I was interested.
It turns out he had purchased boxes of bits some years earlier with the intention of rebuilding the car. As he had 1 child and another on the way he realised he would never have the time or the money to do the rebuild. He had paid £300 for the bits but was prepared to offload them for £150, well I had no option but to say yes to that.
He lived in Leeds and as I would shortly be going to Edinburgh for the Tattoo I asked if I could drop off my trailer on the way up and pick it up on the way back which he agreed to.
When I got back to Leeds from Edinburgh the parts were already loaded onto the trailer so I was unaware of what I had bought.
When I arrived home, I unloaded the parts and laid them out on my patio, I then went upstairs and took a picture out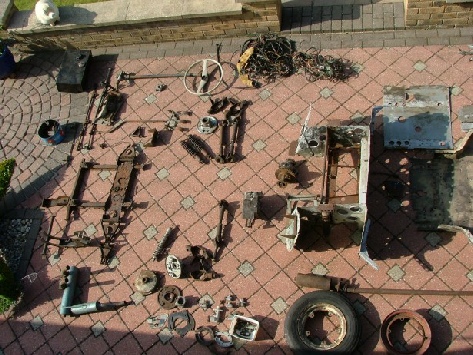 of the window, this is what I saw!
A friend of mine convinced me I had enough parts to make a start anyway so off I went.
I used the worn out and broken parts as patterns and made some of the parts. Other parts I was able to restore and other parts I was able to buy from the Berkeley Enthusiasts Club or from specialist suppliers.
I only had parts of an engine but I managed to buy one complete.
My friend has a vast knowledge of Berkeleys and he stripped and rebuilt the engine.
Three years later with his help and advice I ended up with a complete car as you can see.
I sent a picture of t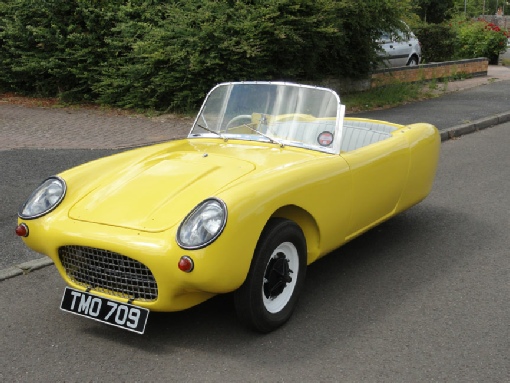 he completed car to 'Practical Classics' motoring magazine and, to cut a long story short, won the restoration of the year award and a substantial prize.
I decided to sell the car on to another enthusiast as I am running out of room, I just wish I had more garages.