In the 1960's I got fed up with being cold and wet riding motorbikes and bought an Isetta bubblecar.
I had lots of engine trouble and eventually sold it and bought a proper car.
Life went on and twelve or so years ago my wife and I thought it would be a good idea to get another bubble car.
That was the start of a new adventure.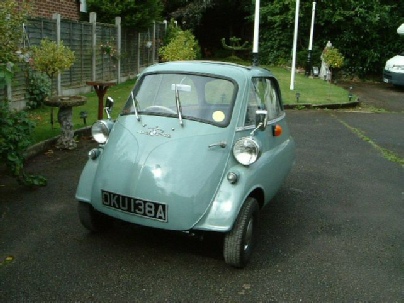 Taking 'Bessie' to rallies and classic car events opened up a whole new part of our lives for us and introduced us to a new circle of friends and acquaintances all over the country.
We have a Motor home and we take 'Bessie' with us to provide transport away from the campsites.
It isn't easy to up sticks with a motor home when you need to go somewhere or even to the shops for a pint of milk.
She doesn't like the steep hills in the West Country and quite often we are in first gear holding up the rest of the traffic climbing some of the hills.
I think those being held up understand when they see the cause!
From one of our rallies started a new project, take a look at my Berkeley T60 page.
We have now done over 9000 miles in Bessie, and apart from a regular change of oil I have not had to do anything, not even look at the spark plug.